Dry stone walling is without doubt one of the oldest of all countryside crafts and we at JUST IN STONE make it our mission and vision that in undertaking such work we both maintain and preserve our countryside for the benefit of all ensuring the countryside we have today is left in a far better condition for future generations.
This -given all the advances in technology – is by no means an easy aspiration. However, we genuinely believe that we all have a moral obligation to take responsibility for what we have and what we pass on to those who follow in our footsteps.
Drystone walling involves building in stone without the use of mortar. A walls strength, stability and integrity is attributed to the hands of the stonemason who has constructed and designed the wall. Whilst never to be seen, the foundations of any given wall will often reflect the longevity of a walls life; not to mention the craftsmanship and knowledge of the mason. Walls will naturally settle over time, but by being built in the correct way, you can be assured there will be no loss to the integrity of your wall, bank or hedge and as such it should stand firm for many years to come. We are truly gifted here in Cornwall and Devon to have many fine examples of walls, banks, hedges and field systems throughout the two counties. Dartmoor National Park and Bodmin Moor are perfect examples of the many styles of field boundaries we are the custodians of: many of them laced and woven with double and single skin walls.
From Moor to Sea – whether you are a landowner or simply a home owner then we are here for you to build, restore or simply advise you on your project or commission. Whilst walls, banks and hedges visually look beautiful, they each also have their own unique purpose beyond the aesthetics of landscaping. Such features create pathways and travel corridors for both flora and fauna alike, thus providing safe and sustainable habitats adding to our rich wildlife bio diversity. Their functionality also extends to creating natural boundaries, firebreaks and even providing a flood defence capability – especially on the uplands and lowlands.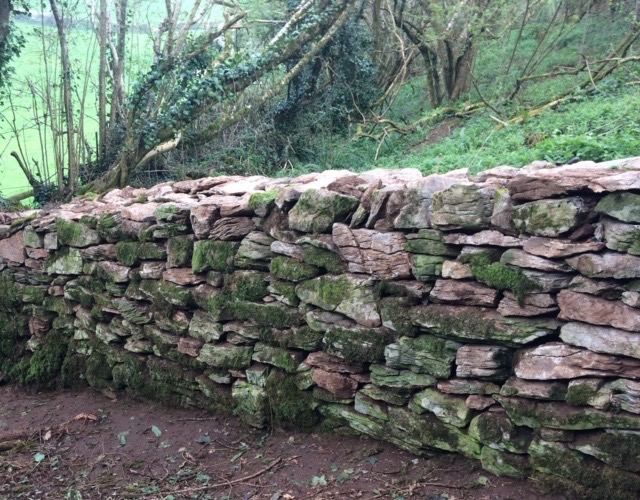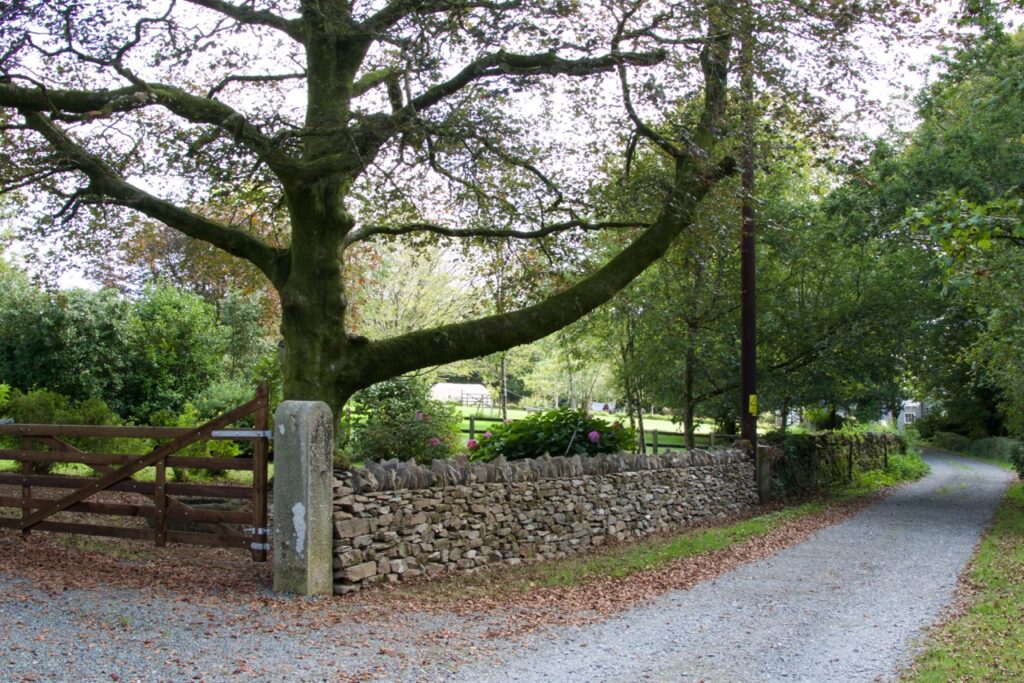 Ann Goodridge
26. September, 2021.
We were so impressed with the restoration that Justin was able to undertake on the Devon stone wall facing to our driveway - incorporating two new timber gateposts along the way - that we brought forward our plans to renovate the 1930s stonework around our pond. As with his other work for us, Justin did an exceptional job, sensitively restoring the stonework, and transforming it from an unattractive liability that was hidden away, to its former glory sitting proudly front and centre in the garden! Thanks Justin!
Matt Jones
23. July, 2021.
We were looking for a traditional set of skills to rebuild the stone facing to our Devon hedge front boundary and found Just In Stone via Facebook. From the very first site visit to the completion of the works, we cannot speak highly enough of Justin. His work ethic and attention to detail became obvious from very early on, and he was not put off by the subtle, and not so subtle, changes to the original brief. We are exceedingly happy with the end result and would not hesitate to recommend Just In Stone to anyone looking for a tradesman with a unique set of skills and exceptional work ethic.
Jessica Bents
24. May, 2021.
Justin installed a hazel wattle hurdle fence for us and it looks fantastic! Justin was amazing throughout all stages of the project, from offering advice on the best solution, to support on where to get the best products, to finally completing the installation. Very professional and knowledgable. We have also had some extremely high winds since installation and the fence was absolutely solid. Highly recommend!
David Gibson
18. May, 2021.
Justin has worked for me a number of times delivering superb quality Dry Stone Walling. Always found that he completes work to an extremely high standard using traditional skills.
Maureen Walker
17. May, 2021.
Nothing but good things to say about Justin, taking a pride in his work, he is my go to for repairs/decorating in my home. I highly recommend him..
Antony Finnegan
3. May, 2021.
Justin was a pleasure to deal with when he restored and rebuilt our Devon Bank that was falling down. He responded quickly to initial contact, visited promptly and provided a quote shortly thereafter. Once a start date was agreed he turned up on time, completed the work quickly with no fuss and ensured we were kept informed of progress and any possible issues. It's obvious Justin knows his trade and we are very happy with the outcome having chosen him to complete the work.
Becky Hawkins
12. April, 2021.
After obtaining quotes from a few local drystone wall companies we chose Just In Stone to dismantle, relocate and rebuild our 100 year old drystone wall. Punctual, professional and meticulous, we highly recommend Just In Stone...in fact we are looking forward to welcoming Justin back in the Summer to carry out further work on our garden.
Carolyn Giles
11. April, 2021.
Justin built and reinforced the fences around my property then helped design and build new garden features so it moved from being a small scrap of land under-used, to a garden I really love. He is professional, considerate and always reliable. His skills aren't limited to outdoor expertise, and he is an excellent plasterer and decorator too.
Diane Wilson
11. April, 2021.
We found Justin to be both professional and timely. His garden maintenance work is of a high standard and he is an excellent stone waller. we have no hesitation in recommending Justin .
Penny Cradick
10. April, 2021.
Justin removed heaps of domestic waste, cut back overgrowth, weeded and generally sorted the back yard of a rental property I own, which had been broken into and decimated by squatters. It was not a task for the faint-hearted and Justin was efficient, quick and very encouraging. Dealing with Justin was a pleasure at a challenging time. It was a waste of his obvious talents, but he helped nonetheless. I cannot recommend him highly enough!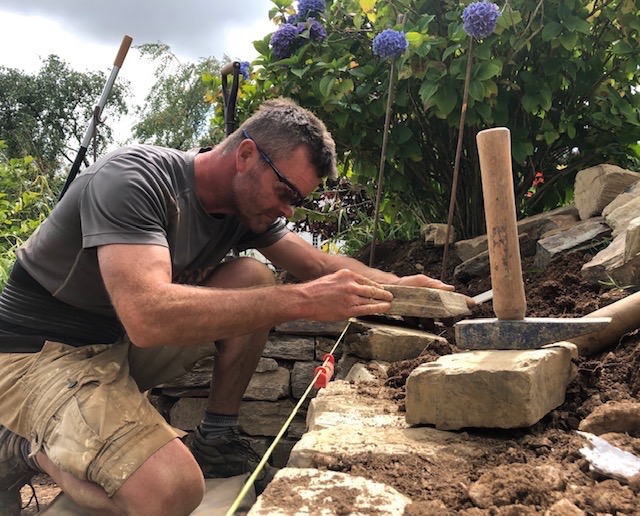 Interested? Schedule a FREE consultation with Justin